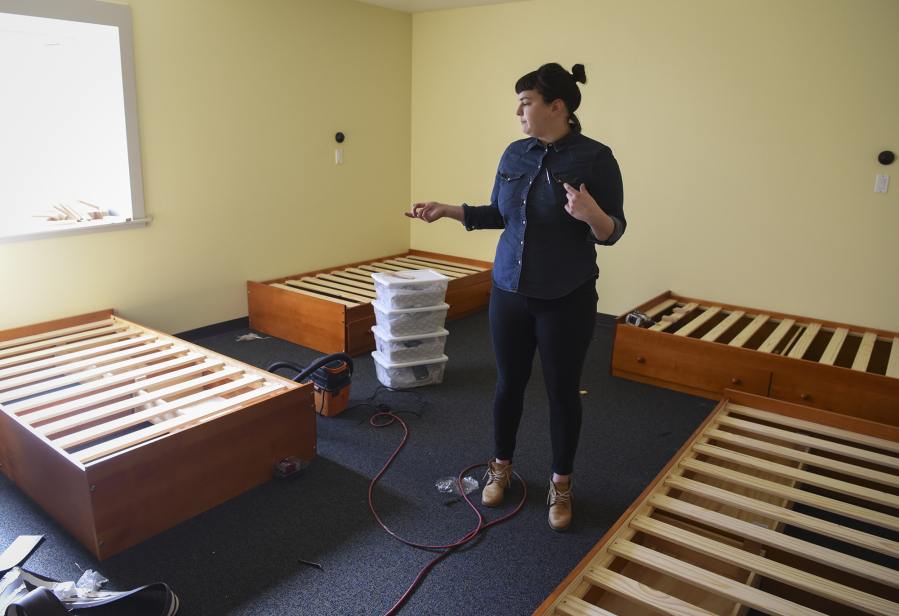 By Marissa Harshman, Columbian Health Reporter
Published: April 26, 2017, 6:03 AM
 The narrow hallways at Daybreak Youth Services make it tough for two people to pass one another without bumping elbows. Communal living rooms with just enough space for a couple of small sofas mean the teenage boys receiving treatment at the Vancouver facility are always in close contact.
"It's chaotic," said Alayna Becker, Daybreak spokeswoman. "Sixteen-year-old boys who are having mental health problems and all packed in here is really hard."
Daybreak moved into the building on Falk Road in 1999. It was intended to be temporary. Now, 18 years later, the nonprofit adolescent treatment center is finally preparing to move into a permanent — and much bigger — home.
Next month, the 16 teen boys receiving residential treatment at Daybreak will move into the organization's new Brush Prairie facility, 11910 N.E. 154th St., which once housed the Bethesda Slavic Church.
Then, on June 1, the 58-bed facility will open its doors to new patients. The facility will increase the number of residential treatment beds from 16 to 43 and add three detox beds. The new center will also bring a new service to Clark County: evaluation and treatment beds.
The 12-bed unit is where youth in crisis can receive stabilizing mental health treatment. Such services don't currently exist in Clark County and are scarce across the state. While some Portland organizations offer youth evaluation and treatment beds, kids on the state Medicaid program can't cross state lines for treatment, said Annette Klinefelter, Daybreak's executive director. The closest in-state option is in the Seattle area, she said.
The Daybreak unit will be open to youth statewide, not just those in Clark County, but having the beds here will benefit local teens who need the services, Klinefelter said.
"They can get much better care in their community," she said. "Their families can participate in their treatment, which is huge. Typically for families, they need support and tools to be able to work with their kids."
Youth can come to the unit in a variety of ways, whether through a parent initiating an involuntary treatment hold or a transfer from an emergency department after a suicide attempt or psychosis, Klinefelter said.
The length of stay in the unit will vary. Some teens may be there on holds for 72 hours or 14 days. Others may spend months waiting for a long-term placement, Klinefelter said.
Youth who have a co-occurring substance use disorder — even those with a primary mental health diagnosis who are experimenting with drugs or alcohol — may be admitted to Daybreak's residential treatment unit. Others may not need additional treatment and would be released after the short stay in the evaluation and treatment unit, Klinefelter said.
Spacious facility
Those who are admitted to Daybreak's inpatient residential treatment program will receive care in a new, spacious facility. The 30,000-square-foot facility will house boys and girls, ages 12 to 18, in separate wings. They'll have separate communal living rooms, small-group meeting rooms and classrooms and will never interact, Becker said. All doors require key cards to open.
The facility will also feature a gymnasium and fitness center — something not available in the current building — as well as a large dining hall, a laundry room, chapel and outdoor exercise space. Those areas will be used by both male and female clients but not at the same time, Becker said. In the fall, they'll get to work on a serenity garden, she said.
Currently, the west side of the state has 58 beds for substance use disorder treatment, which includes the 16 beds at the current Daybreak facility. There are currently no treatment beds for girls in Southwest Washington.
In addition to the inpatient program, the new facility will house outpatient services for people living in Brush Prairie, Battle Ground and north county. Daybreak will still have its outpatient facility on Mill Plain Boulevard in Vancouver.
Lack of youth services
The added evaluation and treatment beds and the increased capacity for residential treatment are needed in the state, but so too are services that catch kids before they need such intensive care, said Vanessa Gaston, director of Clark County Community Services.
"Right now, there's not enough early interventions in the community to prevent kids from escalating to the point where they need treatment," Gaston said.
"There's just a lack of youth services, period," she added.
Other organizations are working to try to address those gaps, as well. Beacon Health Options, which provides crisis services for Clark County, will launch an early intervention program soon after Daybreak opens its new facility.
The organization's youth mobile crisis services program will provide families with face-to-face interventions, said Inna Liu, Beacon program director for Southwest Washington. Beacon also received grant money for a program to intervene with teens and young adults experiencing their first episode of psychosis, she said.
The goal, Liu said, is to provide more comprehensive services for youth and families in Clark County. That's a community effort that Daybreak has been a part of, as well.
"You can have big things happen in the community when you have everyone coming to the table," Klinefelter said.