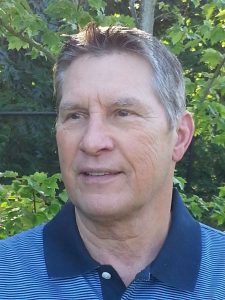 Frank Hoetker – Bio Sketch – "Darby's Story"
A native Californian, I was born, raised, and educated in Bakersfield. After attending Bakersfield Community College, I embarked on long, productive,
successful career in banking mostly in the San Francisco Bay Area, culminating as Senior Vice President, Sales & Service Director, with Rabobank in Central California.
Since relocating to Woodland WA in December 2008, I became involved deeply
in our communities by serving in various board memberships for Daybreak Youth Services in Vancouver, where I am currently on staff as a Life Skills Mentor, and board experience with the Longview Anti-Drug Coalition, Cowlitz Community Network, and Woodland Citizens United Coalition. I served a year-long commitment for the Big Brothers/Big Sisters organization as a Big Brother to a young boy living in Woodland.
As a loving father who witnessed first-hand for 15 heart-breaking years my
son's battle with the Beast of substance addiction, Darby succumbed to the Beast in 1998. I have made it my life's mission to share Darby's Story as his Messenger with at-risk youth, concerned parents, adults-in-recovery, and others of interest who are exposed to this horrendous nightmare. My testimony uniquely contains actual writings by Darby as he rides the Beast's tortuous roller coaster through destructive behaviors while grappling hard to overcome his addiction, family and friends fearfully holding on.
Darby's terrible struggles and passing led me to renew my life by becoming a
Christian. Since then, as my committed mission in life, Representing Daybreak Youth Services, I have delivered over 600 testimonials, reaching thousands of teens, in Clark and Cowlitz counties, at DYS (Inpatient and Outpatient), Mountain View HS, Columbia River HS, Evergreen HS, Heritage High School, Hudson's Bay HS, Legacy HS/MS, Prairie HS, Woodland HS/MS, Kelso HS, R.A. Long HS, Huntington and Coweeman MS (Kelso), Kalama HS, Mark Morris HS, Castle Rock HS, Bellingham HS, New Options
(ESD-112), ChangePoint (adults), Lifeline Connections, Cowlitz Tribal Treatment Center, 2 Juvenile Detention Facilities, Cowlitz County Probation (Drug Court), Bridges Program,, Columbia Treatment Center (adults), NorthWest Behavioral Healthcare Services and SE Works in Oregon, Mountain Ministries WA/OR, plus many similar groups in California. Served as a Keynote Speaker at Recovery Northwest Project 2015 Forum for SWWA Recovery Coalition. Positive responses and shared successes, particularly from young people, have been heartwarming! Youthful attendees, as a symbol for their journey to sobriety, are given an inscribed compass key ring bearing these words… DAYBREAK "Remember Darby's Story…Never Lose Your Way!
This featured article appeared in The Columbian newspaper…
http://www.columbian.com/news/2012/feb/10/drugs-death-broken-hearted-dad-Vancouver
Darby's Story- Facebook http://www.facebook.com/pages/Darbys-Story/
My fervent hope is to awaken our teens, and everyone else, to the pervasion,
ravages, and consequences of substance abuse, driven to inspire a positive difference and direction in the quality of life for our precious young people. >>>ONWARD>>>
Testimonials scheduled by contacting…ffhbun1@gmail.com or (360) 225 7967.