A Q&A with Daybreak's Outpatient Director, Dawn Flees on the topic of Outpatient treatment and what it's like for the youth who walk through our doors.
Dawn Flees, a shining light to many and a familiar face to most opens up about her experiences while working with at-risk youth.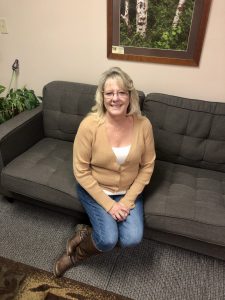 "I always knew in my life that I wanted to help people," said Dawn. "I always knew I wanted to work with kids because kids are real. They bring authenticity to the table and I love that."
Dawn shared how she was a teenager once and could easily have taken "not so good" path. Instead, Dawn decided to go to school. She attended Eastern Washington University where she earned a Bachelor's in Social Work. "I focused on addiction studies because my passion was there." While at school, Dawn learned about Daybreak and heard about the safe place and the hope it spread for people. Wanting to learn more about it, she later became the first paid outpatient intern at Daybreak and within three months was hired part-time within 3 months.
She has now been at Daybreak for over 10 years."I can't imagine going anywhere else. The staff, our programs, and our kids are just amazing."
Q. WHAT IS OUTPATIENT AND WHAT ARE THE SERVICES YOU PROVIDE?
Outpatient counseling allows clients the freedom of living at home and attending school while working on treatment. We provide a mix of one-one one counseling, group therapy, and family therapy for youth ages 12 -18, even up to 21 who are struggling with substance use disorder. Outpatient also does assessments for youth to evaluation what level of care the client might need. Our work is very individualized and personalized. Not every client needs the same thing, but 100% of our clients gain substance use disorder education. We offer multiple groups to fit our clients needs. We use dialectical behavioral therapy(DBT) in all of our sessions and we also have relapse prevention groups. Additionally, marijuana and nicotine talks are offered and clients celebrate their recovery status with coin ceremonies, a very important part of their recovery process. Each month, Outpatient organizes a family event night where families come with the clients and family skills are taught. Outpatient also offers special events where clients do art, journal, and participate in sober, life enriching activities.Groups typically start at 4 pm and go until 5:30 p.m. and can be as large as 16 youth with each counselor.

Outpatient consists of 3- Lindsay, Dawn, and Roxie. Small but mighty.- Sit on truancy boards(through school) we refer through this also.
Q. WHAT IF CLIENTS HAVE NO WAY OF GETTING TO THEIR MEETINGS OR GROUPS?
If transportation is a barrier, we try and get them bus passes. Outpatient has a relationship with the STA and can coordinate bus passes for our clients. All groups are scheduled during after school hours to help meet the needs of most clients. Outpatient works hard to individually schedule clients for individual sessions. Our counselors are flexible around sports schedules, clubs or organizations, and school or family life. If they're working, not every client will be in a group. We don't want to take their strengths away from them. When they're working and doing sports, and studying in school, that's a huge piece of their recovery and we don't want to take that away from them.
Q. WHERE ARE YOUTH COMING FROM AND HOW LONG ARE THEY AT OUTPATIENT?

 
We see a lot of referrals come from schools, programs through juvenile court systems, mental health therapists, and inpatient treatment. Each client's length of treatment is different, depending on their level of need. Usually, a minimum of 90 days, but clients write their own treatment plan. 
Q. DO YOU HAVE TO BE REFERRED TO OUTPATIENT IN ORDER TO RECEIVE TREATMENT SERVICES?
No! Walk-ins are more than welcome and people can ask to schedule an appointment at any time for an assessment. We are here to help whoever walks through our door.
Q. WHAT MAKES OUTPATIENT AT DAYBREAK UNIQUE?
The small staff is dedicated to making sure we're individualizing treatment for each client.  Our belief in the importance of sober and life-enriching activities sets us apart from a lot of other treatment providers. We focus on providing the necessary life skills to help clients cope with what they're dealing with every day. We're a safe, non-judgmental place.
Q. WHAT ARE THE CLIENTS LIKE?
Its a gambit! We see anyone from an 'A' student to someone who's in foster care, with limited schooling. Its a gambit. If you were to ask me what a substance use disorder client looks like, I'd say hold up a mirror.  It can be anyone. Substance use disorder, mental health, and trauma are equal opportunists. They are not prejudiced. They do not care where you come from, how educated you are, how much money you make, or your age. You can't put your finger on what it looks like. None of our clients are typical. I think they're amazing, young people who are trying to figure out who they are. Some come with different levels of trauma and they have found that self-medicating is working for them. We are hopefully there to help guide them and give them the tools to show them that they don't have to self medicate to cope with their challenges. There are other things they can be doing.
Q. WHAT ARE SOME OF THE CHALLENGES YOU FACE? 
As staff, one of the biggest challenges we face is the the stigma of substance use disorder and mental health. Our clients face this stigma and it can make it hard for them in treatment. We also notice barriers to treatment: It can be hard for our client to get here, lack of a support system, etc. We see clients with amazing support and some who have nothing.
Q. EXPLAIN HOW COMMUNITY SUPPORT IS IMPORTANT TO THE WORK YOU'RE DOING?
Because of the stigma surrounding substance abuse and mental health, we need to rally around our young people as a community! They live here. We need to know how to better serve those who are in need. We need everyone around the table: schools, law enforcement, everyone.
Q. DO YOU HAVE ADVICE FOR FAMILIES OR FRIENDS IN THE COMMUNITY WHO ARE AROUND THOSE STRUGGLING WITH SUBSTANCE USE DISORDER AND MENTAL HEALTH?
It's not prejudiced. It can affect anyone, anywhere, at any age. We work with some of the most artistic, smart, and amazing people who are trying to find their voice. Hopefully, we can help them do that. It's also important to promote sober activities. When clients use, things become less fun after some time. When they've been using for a while, they have a hard time finding joy in certain things. So. it's important for us to get them involved. Sober activities are about allowing them to be kids and not have to worry about their unstable living environment, where their next meal is coming from, or if they have shoes to wear. They get to be a kid for a couple of hours. Its important to teach our youth that they can have fun without being high. They can be with other peers that do other things.
Q. WHAT DOES A TYPICAL DAY LOOK LIKE AT OUTPATIENT?
It might look different for each of us. Mornings usually start with truancy board meetings and assessments. Then our day continues with individual sessions and groups. An assessment is a bio, psycho, and social evaluation that takes roughly 1.5-2hrs where we get a lot of back history, we see if there's any trauma, and we determine if the client meets criteria for outpatient level of care of a higher level of care. If they meet the criteria for outpatient, we admit them and make a calendar to start seeing them individually. We can have anywhere from 5-9 sessions a day and teach a group. Our kids are out there every day, going to school, living in their environment, and it can be difficult for them. They only come 1-3 times a week and we don't have the undivided time to provide the life skills needed daily like inpatient treatment would. Everyone has a different home life. Some kids might go home to dinner, some kids might not. All of our clients aren't getting a warm bed and three meals a day. Some of our kids don't have anyone to wake them up to go to a school that day or maybe their parents work at night. A family looks different for everybody. So we really focus on providing support during our time with the youth. Family work and support is so important. Research shows that more family involvement leads to higher success rates. 
Q. WHAT IS THE MOST DIFFICULT PART ABOUT COMING TO WORK EVERY DAY? 
Not being able to provide our clients with all their needs meaning three meals a day, new shoes. We wish they could have their parents be home for them… But all of the difficult obstacles our youth face are also the part that makes them so resilient. We learn from our clients, they don't just learn from us.
"I want the community to know that we're here and we work with amazing kids. We have to break the stigma, We need to be able to provide them this safe place. If you're a human being, you've had some form of trauma and people cope with trauma in different ways."