VANCOUVER, WA, November 17, 2016 — The Southwest Washington community stood with Daybreak Youth Services last night to raise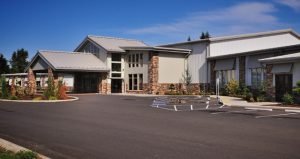 almost $900,000 in support of the completion of Daybreak's new, state-of-the-art treatment facility in Brush Prairie, WA.
The paddle raise took place at the Warehouse '23 in Vancouver. Speakers advocated for comprehensive substance abuse and mental health treatment options for teens across the region. Daybreak client Mattie, 18, said, "When I started Daybreak, I didn't care what I did. I didn't care about anything except for that need to drink. Since coming to Daybreak, I'm surrounded by people that want to build me up."
The Daybreak Center for Adolescent Recovery will add 58 treatment beds in Southwest Washington, doubling the current capacity of all youth treatment organizations in Western Washington. In addition to co-occurring (mental health and chemical dependency) inpatient care, the new facility will include: medically assisted detox services; outpatient psychiatric and addiction treatment; an onsite school; a serenity garden; gym and fitness center, all on eight acres of beautiful land.
The new facility will help keep $50,000,000- $90,000,000 from leaving Clark County because teens and families will no longer need to travel to other regions to receive treatment. It also brings 40 permanent, living-wage jobs to Clark County.
"This step toward our goal has given us the momentum that won't stop. The need is great, and Daybreak is on the forefront to provide vital, lifesaving treatment for teens" said Daybreak Executive Director Annette Klinefelter. "We are so grateful and inspired by the support of our community."
The Daybreak Center for Adolescent Recovery is projected to open early 2017.
About Daybreak:
As an innovative leader in drug and alcohol youth treatment since 1978, Daybreak Youth Services helps families who are struggling with substance abuse and mental health issues. We provide inpatient and outpatient treatment programs to families across the Northwest, including Washington, Idaho, Oregon, Montana and Alaska.
We operate a 40-bed, girls-only inpatient facility in Spokane, Wash., and a 16-bed, boys-only inpatient facility in Vancouver, Wash. These facilities provide safe and secure environments where adolescents ages 12-17 can commit to their recovery while engaging in school and recreation.
Our inpatient chemical dependency treatment programs are certified by the Division of Alcohol and Substance Abuse. Our programs adhere to industry best practices and meet
criteria set by the American Society of Addiction Medicine (ASAM) as Level III medically monitored programs.
###