Conversations with the Community
Attend a free educational forum at Daybreak Youth Services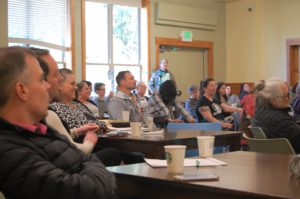 Daybreak Youth Services will hold its next Conversations with the Community event on Monday, August 27 from 3:30 to 5 p.m. at its Brush Prairie facility (11910 NE 154th St., Brush Prairie, WA).
This free educational forum presents a rare opportunity for members of the public to hear directly from a group of Daybreak clients, and to ask them questions.
Each of the panelists has volunteered to share their personal story (an empowering experience), including what led them to treatment, their journey through the recovery process and their hopes and dreams for the future.
Tours of Daybreak's Brush Prairie facility, the RWC Center for Adolescent Recovery, will be also available.
Email your request to attend to Nick Shanmac, Daybreak Youth Services' director of marketing and outreach, at nshanmac@daybreakyouthservices.org.
Breaking the stigma: My journey through recovery