Conversations with the Community
Attend a free educational forum at Daybreak Youth Services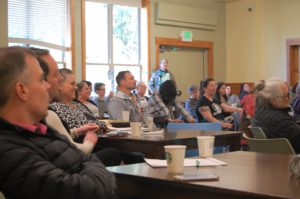 Daybreak Youth Services is excited to announce the launch of a series of free educational forums related to the disease of addiction. We're calling the series Conversations with the Community.
The inaugural forum was held on Thursday, March 22 at Daybreak Youth Services in Brush Prairie (11910 NE 154th St.). The event focused on "Young People & Addiction: Separating fact from fiction," and included a presentation on the neurobiology of addiction and a discussion of the myths and stereotypes associated with the disease. 
The next Conversations With the Community event has been tentatively set for mid-May, 2018.
Questions? Contact Nick Shanmac, Daybreak Youth Services' director of marketing and outreach, at 360.984.5232 or nshanmac@daybreakyouthservices.org.