Conversations with the Community
Attend a free educational forum at Daybreak Youth Services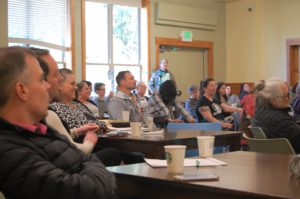 Daybreak Youth Services will hold its next Conversations with the Community event on Wednesday, May 30 from 3:30 to 5 p.m. at its Brush Prairie facility (11910 NE 154th St., Brush Prairie, WA). The free educational forum will focus on "Emerging Drug Trends: Building Awareness & Finding Solutions." 
Attendees will have the opportunity to listen to and participate in a robust panel discussion about the substances teens today are using. What forms do they come in? How are they being obtained? What warning signs should parents look for? How is our community handling the issue? These questions and more will be addressed.
Tours of Daybreak's Brush Prairie facility, the RWC Center for Adolescent Recovery, will be available. Continuing Education Units available upon request.
If you have any questions, please contact Nick Shanmac, Daybreak Youth Services' Director of Marketing and Outreach, at 360.984.5232 or nshanmac@daybreakyouthservices.org. 
Emerging Drug Trends: Building Awareness & Finding Solutions